AEP Proposes New 765-kv
Transmission Superhighway in PJM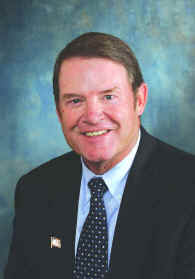 Mike Morris
American Electric Power filed with the Federal Energy Regulatory Commission (FERC) and the PJM Interconnection (PJM) to build a new 765-kilovolt (kV) transmission line stretching from West Virginia to New Jersey. The proposed transmission superhighway will span approximately 550 miles and is designed to reduce PJM congestion costs by substantially improving west-east transfer capability by approximately 5,000 megawatts (MW) and reducing transmission line losses by approximately 280 MW. It also will enhance reliability in the eastern transmission grid.
"We must move forward and address the current inadequacies of our nation's existing transmission infrastructure. Congress and the Federal Energy Regulatory Commission have identified that investment in transmission is crucial to ensure the reliability of the electricity grid and the growth potential of our economy," said Michael G. Morris, AEP's chairman, president and chief executive officer. "It makes sense that AEP would be the first to step up and propose a new transmission superhighway to address issues plaguing the eastern transmission grid. AEP was the first utility in the United States to recognize the value of investing in a network of 765-kV transmission lines, the highest-voltage transmission ever built, to move power from remote generators to load centers. Today, AEP's 765-kV network, which stretches more than 2,000 miles, is arguably the most reliable, efficient transmission network in the United States.
"Additional high-voltage transmission highways are absolutely necessary to relieve congestion within the eastern grid. In 2004, PJM transmission congestion costs totaled approximately $800 million, and in 2005, congestion costs are expected to exceed $1 billion. These costs are reflected in higher wholesale electricity prices, particularly during peak demand periods, when available, lower-cost electricity can't be transported to where it is needed. This line will reduce those congestion costs, cut line losses, enhance reliability and provide the transmission capacity and flexibility that is critical for construction of new fuel-diverse generation, including renewables," Morris said.
AEP's proposed transmission line, called the AEP Interstate Project, would originate at AEP's Amos transmission station in Putnam County, WV, connect through Doubs Station in Frederick County, MD, and terminate at the Deans Station in Middlesex County, NJ. The proposed route follows a corridor conceptually identified by PJM as Project Mountaineer, a transmission route needed to address critical transmission congestion within the PJM footprint. Exact routing of the line would be determined after PJM approves the project. AEP will work with PJM, other affected transmission owners and stakeholders throughout the siting process.
AEP also has filed with the Department of Energy to have the proposed route designated as a National Interest Electric Transmission Corridor (NIETC). The Energy Policy Act of 2005 provides for NIETC designation for areas that are experiencing electric energy transmission capacity constraints or congestion that adversely affects consumers.
A new AEP subsidiary, AEP Transmission Co., LLC, will own the line and undertake construction of the project. The projected cost is approximately $3 billion. The anticipated in-service date is 2014 assuming three years to site and acquire rights-of-way and five years to build the line.
American Electric Power is one of the largest electric utilities in the United States, delivering electricity to more than 5 million customers in 11 states. AEP is the nation's largest generator of electricity, owning more than 36,000 megawatts of generating capacity in the U.S. AEP also owns the nation's largest electricity transmission system, a nearly 39,000-mile network that includes more 765-kilovolt extra-high voltage transmission lines than all other U.S. transmission systems combined. AEP's utility units operate as AEP Ohio, AEP Texas, Appalachian Power (in Virginia, West Virginia and Tennessee), Indiana Michigan Power, Kentucky Power, Public Service Company of Oklahoma, and Southwestern Electric Power Company (in Arkansas, Louisiana and east Texas). American Electric Power, based in Columbus, Ohio, is celebrating its 100th anniversary in 2006.
---
Fossil Energy Requests $649 Million
for FY 2007 Budget
The Department of Energy's Office of Fossil Energy FY 2007 budget request of $649 million allocates $281 million for the President's Coal Research Initiative, which includes $54 million for FutureGen, the world's first zero-emissions hydrogen and electricity producing power plant, and $74 million for carbon sequestration.
Fossil Energy's programs support the President's top initiatives for energy security, clean air, climate change and coal research. In addition, the appropriation supports the Department's strategic goal of protecting our national and economic security by promoting a diverse supply and delivery of reliable, affordable, and environmentally-sound energy. FY 2007 Fossil Energy programs:
--Implement several key Presidential initiatives through partnership with industry to demonstrate advanced, lower cost, effective pollution control technologies at commercial scale;
--Increase the nation's technological options for reducing greenhouse gases by increasing power plant efficiencies and using the latest carbon management techniques to capture and isolate these gases as through the Climate Change Technology program;
--Ensure energy security by producing hydrogen from coal to support and implement the President's Hydrogen Fuel Initiative to develop the technologies to push forward a "hydrogen energy economy."
Clean Coal is a major component of the National Energy Policy. It is essential to meeting the rising demand for clean, reliable and affordable electricity for the foreseeable future. Clean Coal R&D will identify the most critical barriers to coal's use in the power sector and demonstrate new, environmentally-sound technologies for coal-based electricity generation.
The FY 2007 budget supports the Office of Fossil Energy's ongoing effort to fulfill President Bush's 10-year, $2 billion commitment to clean coal research, beginning with funding for the President's Coal Research Initiative of $281 million.


This article is protected by United States copyright and other intellectual property laws. The article may not be reproduced, rewritten, distributed, redisseminated, transmitted, displayed, published or broadcast, directly or indirectly, in any medium without the prior permission of Coal Leader, Inc. Copyright 2006, Coal Leader, Inc. All rights reserved.