Alpha Natural Resources
Goes Public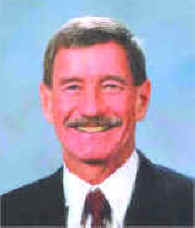 Michael J. Quillen
Alpha Natural Resources, Inc. recently announced it has priced its initial public offering of 29,500,000 shares of common stock at $19.00 per share. The common stock began trading, February 15, on the New York Stock Exchange under the symbol "ANR". The company will use all of the approximately $519 million in net proceeds from the offering to repay indebtedness to certain of its existing stockholders.
The company has also granted the underwriters an over-allotment option to purchase up to an additional 4,425,000 shares, the proceeds of which, if the option is exercised, will be distributed as a dividend to its existing stockholders.
Morgan Stanley & Co. Incorporated and Citigroup Global Markets Inc. served as joint book-running managers for the offering, with UBS Investment Bank acting as joint-lead manager and Bear, Stearns & Co. Inc.; Lehman Brothers; ABN AMRO Rothschild LLC and Natexis Bleichroeder Inc. acted as co-managers.
Alpha is a leading Central Appalachian coal producer that also has significant operations in Northern Appalachia. Its reserves primarily consist of high Btu, low sulfur steam coal that is currently in high demand in U.S. coal markets, and metallurgical coal that is currently in high demand in both U.S. and international coal markets. Large utilities and industrial customers primarily purchase the steam coal as fuel for electricity generation. Metallurgical coal is used primarily to make coke, a key component in the steel making process.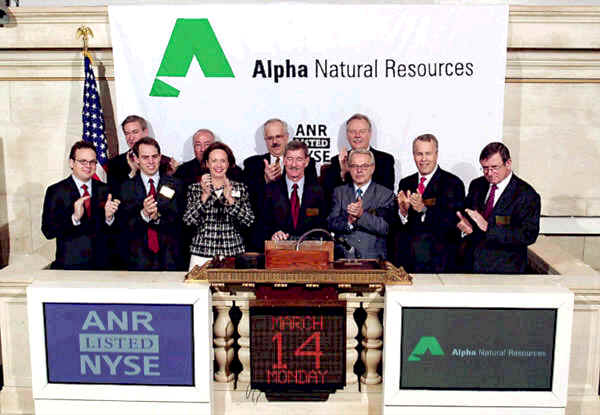 Photograph Courtesy of New York Stock Exchange

Alpha produces, processes, and sells steam and metallurgical coal from eight regional business units supported by 44 active underground mines, 20 active surface mines and 11 preparation plants located throughout VA, WV, KY, PA, and CO.
Alpha also purchases and resale's coal mined by others., Alpha Natural Resources was formed in 2002 by affiliates of First Reserve Corporation, a private equity firm, and its management. Alpha acquired the majority of the Virginia coal operations of Pittston Coal Company, a subsidiary of The Brink's Company, in December 2002.
In early 2003, the company acquired Coastal Coal Company, and the U.S. coal production and marketing operations of American Metals and Coal International. In connection with this acquisition of the Coastal Coal Company, Alpha acquired an overriding royalty interest in certain properties located in VA and WV owned by El Paso CPG Company.
Alpha sold the overriding royalty interest to affiliates of Natural Resource Partners, L.P. (NRP) and, also sold substantially all of its fee-owned VA mineral properties to NRP in a sale/leaseback transaction. Late in 2003 the company acquired Mears Enterprises, Inc. and affiliated entities.
In 2004 the company acquired substantially all of the assets of Moravian Run Reclamation Co., Inc., including four active surface mines and two additional surface mines under development, operating in close proximity to and serving many of the same customers as their AMFIRE business unit located in PA.
They also acquired a coal preparation plant and railroad-loading facility located in Portage, PA and related equipment and coal inventory from Cooney Bros. Coal Company and an adjacent coal refuse disposal site from a Cooney family trust. Alpha's AMFIRE business unit entered into a coal-mining lease with Pristine Resources, Inc., a subsidiary of International Steel Group Inc., for the right to deep mine a substantial area of the Upper Freeport Seam in PA.
Alpha Natural Resources Inc. announced that revenue in 2004 increased 60 percent to $1,269.7 million from $792.6 million in 2003. Company EBITDA, as adjusted, rose more than two-fold to $119.3 million from $47.7 million in 2003.
Net income for the full year 2004 totaled $20.0 million compared with net income of $2.3 million in 2003.
Capital expenditures for the year 2004 were $70.1 million, an increase of $42.4 million from the prior year, primarily due to the replacement of mining equipment and upgrades to a preparation plant. In 2004 the Company also purchased two small coal operations in Pennsylvania and made an equity investment in a mining project in Venezuela. Cash flow from operations in 2004 exceeded capital outlays, reaching $104.8 million compared with $54.1 million in 2003.
"While our production is almost fully committed for 2005, as of the beginning of February we had a significant level of uncommitted and unpriced production for 2006 and 2007, about 49 percent and 76 percent, respectively," said Mike Quillen. "With about 40 percent of our uncommitted tonnage being metallurgical-quality coal, we are well positioned in the current market environment. Our coal purchasing and blending capabilities give us tremendous leeway in executing our business strategy." cl

This article is protected by United States copyright and other intellectual property laws. The article may not be reproduced, rewritten, distributed, redisseminated, transmitted, displayed, published or broadcast, directly or indirectly, in any medium without the prior permission of Coal Leader, Inc. Copyright 2005, Coal Leader, Inc. All rights reserved.