DBT Focuses on Automation at Longwall USA 2005
DBT is exhibiting products and services demonstrating its position as a global market leader providing a complete range of system solutions for longwall operations.
With a focus on automation solutions, DBT will display at two locations - a stand inside the Convention Center (Booth # 301) and an outside display.
DBT will display the PMCTM-R, an electrohydraulic shield control that is part of the new PMC (Programmable Mining Control) range. In combination with shearer automation, it demonstrates full automation of the advancing longwall.
Also on display is the new DBT COMPACT shearer control which controls, monitors and protects the shearer during operation. Replacing previous generations, the COMPACT allows the shearer communicate with headgate and link to roof supports, and enables data flow to be transmitted to the surface for monitoring. The transceiver is a 2-way radio remote with a self-contained rechargeable battery. The use of CAN bus (a high-integrity serial data communications bus for real-time control applications) reduces wiring by up to 70%.
The Integrated CST Drive System (ICDS) for face conveyors combines the tried-and-tested CST drive system for face conveyors with a newly developed special Reliance motor with DBT's new PMCTM-D drive control system featuring no-load motor start-up, AFC soft start and synchronized heavy-load start-up. It allows accurate load sharing between up to four drive motors with extremely fast overload protection.
Visitors who step outside the Convention Center can see the latest addition to DBT's stable of battery-powered VersatracTM shield haulers.
VersatracTM shield haulers are specially engineered ultra-heavy-duty machines making longwall face moves simpler and less costly. With the ability to lift and carry 50 tons (45.4 tonnes) at a distance of 60" (1524mm) from the fork face, the capacity of the VT650 is unparalleled by any other battery-powered shield hauler on the market. A control stick gives simple, intuitive control over steering and other functions, while the unique tri-section frame offers greater maneuverability and superior traction. The VT650 battery pack has a capacity of 2000 Ah, allowing over 800 tons (726 tonnes) to be moved per battery charge.
Back inside, DBT's top-of-the-line PF 6 defines state of the art for underground face conveyor technology. Created by an international team of DBT experts, the PF 6 combines the advantages of cast and fabricated pans, making it particularly suitable for use in extensive longwalls and working fields with coal reserves of 20 million tonnes and up.
The PF 5/1342 mm line pan on display has been the principal heavy-duty line pan for DBT since 1998. Features include the Jumbotrack 2000 rack haulage and dogbone connectors rated at 490 tons (444 tonnes).
Two types of belt conveyor idler rolls will be on display: DBT's new steel rolls and EXALON TM rolls. After two years of R&D, DBT launched a new steel roll incorporating several patent-pending innovations with the promise of longer service life than competitive products. A redesigned sealing system provides better bearing protection and a patent-pending grease retention method called Positive Automatic Lubrication or "Idler PAL" ensures that the bearing is lubricated at all times.
Made of DBT's proprietary high-molecular-weight polyethylene, EXALONTM conveyor rolls have many benefits including extended life (up to 300% in normal conditions and 500% in corrosive conditions), lighter weight, decreased belt damage, sound damping, and lower material accumulation.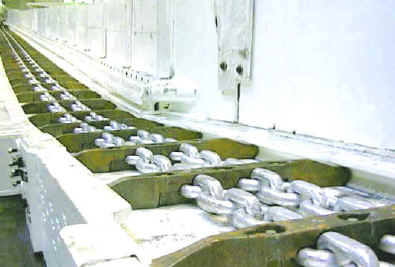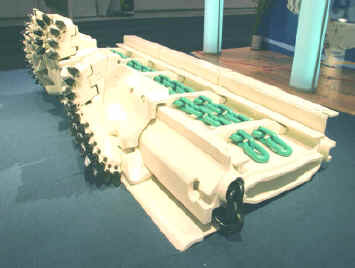 At the display inside the Convention Center, visitors can see a state-of-the-art GleithobelTM GH 42 plow with a massive 2,160 hp (1600 kW) cutting power. The GH 42 system will allow hard-coal operations to reach production figures previously established only in soft coal of 23,000 clean metric tons per day and more. It is displayed with three PF 4/1132 mm plow line pans. The PF 4 line pan has a replaceable top trough with a trough deckplate thickness of 30 mm, for extended pan life and the 42 x 146 mm AFC (armored face conveyor) chain is rated for installed power of 2 x 1630 hp (2 x 1200 kW).
Longwall Longwall USA 2005 is June 7-9 at the David L. Lawrence Convention Center in
Pittsburgh, PA. cl

This article is protected by United States copyright and other intellectual property laws. The article may not be reproduced, rewritten, distributed, redisseminated, transmitted, displayed, published or broadcast, directly or indirectly, in any medium without the prior permission of Coal Leader, Inc. Copyright 2005, Coal Leader, Inc. All rights reserved.