CEDAR of Southern
West Virginia
CEDAR (Coal Education Development and Resource) recently completed their fourth year in southern West Virginia. Over the four-year period, CEDAR has provided 209 teachers with approximately $34,000 in grant money to utilize in their classroom teaching about the many benefits coal has to offer. 4,207 students have been involved in these coal study units in Mingo, Logan, Boone, and McDowell counties.
At the fourth Regional Coal Fair, 257 projects were on display from students in K-12 grades that demonstrated their understanding of how coal is formed, mined, and transported, as well as how the industry affects their daily lives. Over the four-year period, 1,017 projects have been represented at the regional level. A total of $22,611 in cash prizes has been awarded to students for performance and $4,381 in cash prizes has been awarded to the school coal fair coordinators (teacher designated by school principal). Exhibits were entered in seven categories: Art, English/Literature, Math, Music, Science, Social Studies and Technology/Multi Media. Each category is split into three grade levels (K-4), (5-8), and (9-12). In addition to the cash prizes awarded, the students gained a hands-on education in coal and found pride in their strong coal heritage.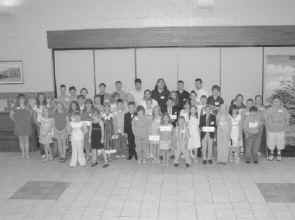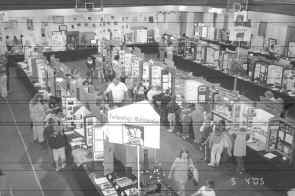 During the week, approximately 1,000 visitors toured the projects at the Harless Community Center in Gilbert. Bus tours were scheduled from the participating counties to tour the projects on display. Mr. Stanley C. Suboleski, Commissioner of the Federal Mine Safety and Health Review Commission, was the guest speaker for the Tug Valley Mine Institute's monthly meeting. The setting of this meeting allowed Mr. Suboleski and many other community and coal industry leaders to view projects submitted by students from Mingo, McDowell, Logan, and Boone Counties. The meeting was broadcast live by WVKM, 106.7, Matewan, West Virginia. West Chapmanville kindergarten students performed live before TVMI members and guest prior to the meeting.
MSHA and the West Virginia Office of Miners Health, Safety, and Training were present during the week educating students about safety in and around the mining industry. MSHA representative, Preston White, conducted a Float Dust Demonstration outside the facility during the week, demonstrating the explosiveness of coal.
CEDAR of Southern West Virginia, Inc. is an all volunteer, not for profit corporation which began as a partnership between the Coal Industry, Business Community, and Educators, created with the purpose of improving the image of the coal industry.
CEDAR of Southern West Virginia, Inc. board members include Gary L. Bennett, John B. Earles, Chris Hamilton, Steve Hopta, Roger Lilly, Phillip G. Montague, James M. Mullins, Georgene Robertson, Brenda Skibo, Joe Haynes, Jeff Gillenwater, Brian Varney, Mike Mitchem, Tranquilla Whitt, and Tim Zeli. Susan Dingess is the Coal Study Unit Manager, and Debbie Mudd is the Coal Fair Manager.
One of CEDAR of Southern West Virginia's objectives will be to expand to other surrounding counties in southern West Virginia. CEDAR is working toward securing coal's future TODAY by educating our leaders of TOMORROW!
For additional information about CEDAR of Southern West Virginia, Inc., call Georgene Robertson
at 304/235-5833. cl

This article is protected by United States copyright and other intellectual property laws. The article may not be reproduced, rewritten, distributed, redisseminated, transmitted, displayed, published or broadcast, directly or indirectly, in any medium without the prior permission of Coal Leader, Inc. Copyright 2005, Coal Leader, Inc. All rights reserved.