Coal Prep Attracts 2300
By: Bill Reid
Managing Editor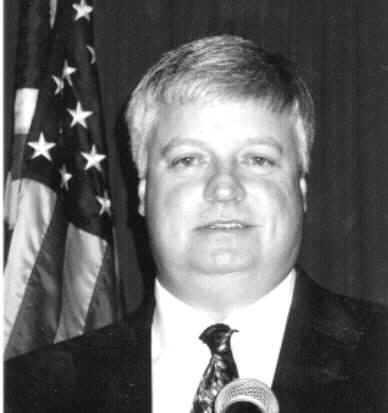 Joe Gallo
The 20th Anniversary of Coal Prep was celebrated in style when over 2300 coal preparation specialists together with others from the coal industry converged on Lexington Center, Lexington, Kentucky to attend this important industry event.
There were four technical sessions as well as special events including Coal Prep 2003 Golf Tournament, Cocktail Reception, and 20th Anniversary Party. The opening keynote address Quecreek Mine: Rescue of Nine was presented by Joseph Gallo, Vice President of Underground Operations Quecreek Mining. On a July evening in 2002, the world held its breath and prayed for the safe rescue of the nine coal miners who were trapped as a result of an accidental inundation at Quecreek Mine in Pennsylvania. According to Gallo, the Miracle at Quecreek was a combination of fast thinking, unrivaled teamwork, and good engineering. From the accurate surveying to the placement of the rescue holes to the mine dewatering strategies, Gallo's detailed presentation illustrated how a disaster was averted by a remarkable group of hundreds of rescuers.
Attendees to the conference could also attend the Coal Preparation short course: Introduction to Coal Cleaning Operations presented by Gerald Luttrel, Professor of Mining and Minerals, Virginia Tech, Robert (Bob) Bratton, Industrial Programs Manager, CAST; Rick Honaker, Associate Professor, Department of Mining Engineering, University of Kentucky. The workshop included four one-hour sessions:
• Coal Cleaning Fundamentals
• Heavy Medium Processes
• Water-Based Separations
• Froth Flotation Separations
Video clips, photographs, and schematics were used to illustrate the working principals of each unit operation and the presentations included a variety of hands-on demonstrations designed to make the technical concepts easy to understand and entertaining.
The Coal Prep conference was accompanied by a substantial exhibition with 180 manufacturers showing their products and services allowing visitors to gain insight into the most effective preparation methods and to learn from top industry experts offering solutions to coal preparation challenges. Some of the latest coal preparation technology is given below.
| | |
| --- | --- |
| Coal Prep Keynote Session | SMC Introduces Microdrive |
| McLanahan Since 1935 | GIW Pumps |
PrepTech Inc.
Established in 1997, PrepTech Inc. provides a blend of applied research and operations experience combining proven technology with advanced methods. Teaming with Multotec Process Equipment, the company offers innovative processing equipment such as Multotec ceramic impellers. These have a life in excess of six times that of Ni-hard steel or polymers and are about half the weight of steel. They are made from alumina-epoxy-steel composite and are individually balanced being compatible with existing pumps.
PrepTech also offers a substantial range of cyclones, spiral concentrators, distributors, and ancillary equipment such as ceramic plug and seat valves and in-line guard screens. They also offer turbo froth flotation columns, T.H. Filterpress, and sievebends. Also included in the range is Multotec
wet sampling and dry sampling equipment.
The plant design and engineering services of PrepTech include conceptual flow sheet design through the preparation of complete bid specification packages complementing their Multotec Process Equipment sales service and parts inventory. Test spirals are available for in plant testing and a pilot-scale filter press and pilot-scale froth flotation columns (6''and 12") are also available for testing requirements.
Ludowici USA
Ludowici Mineral Processing Equipment Inc., based in Ambridge, PA supply a range of products from vibrating screens to centrifuges and wear resistant material. Malco Portal Reclaimers can handle capacities up to 2000 TPH and spans up to 450 feet. The manufacture of stainless steels wedge wire named for its wedge shaped cross sectional profile has been a major component of the Ludowici range of products since the early 1990's.
The company has been serving customers in Australia since 1858 and its products include sievebend (DSM screen), Vibrationtechnic screens, and low noise Silent Knight exciter gearboxes. The company also manufactures wear resistant products, material handling hose, cyclones, centrifuges, ceramics and hand built expansion joints. The range of products also includes magnetic separators, polyurethane, mechanical seals, stackers, jetslinger machines, jetslinger belts, bridge reclaimers, coal valves, rubber lining and moldings, and shiploaders.
Ludowici offers a comprehensive range of components and equipment. Their Malco and Horner divisions have extensive knowledge of vibrating screen machine design and applications dating back to the early 1960's.
Flexco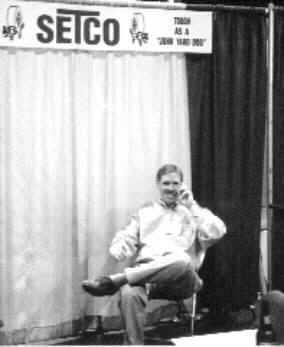 Steve Mercer
Around the world, Flexco is well known for its belt splicing products, as well as its solutions for belt conveyor problems. Flexco has teamed up with Parramatta Group to supply the Parramatta Control Floor Material Transfer System (CFMTS). Originally designed in 1984, the unit is custom designed for capacity upgrades, reducing dust, and increasing system uptime. Widely used in Australia, a high percentage of Australian coal travels through CFMTS units. Some of the advantages are:
· The material is offered onto the receiving conveyor at a low angle of impact and has a speed at least equal to that of the receiving conveyor.
· Material turbulence is eliminated reducing dust and material degradation.
· Conveyor belt top cover wear is significantly reduced.
· Power consumption on receiving belt is reduced, as less frictional resistance needs to be overcome between the material and the belt.
· Uniform centered loading prevents belt tracking problems and associated costs.
· Spillage is eliminated with discharged flow remaining consistently uniform regardless of external environmental temperatures and material moisture content fluctuation.
· Additional skirting systems and other types of conveyor baffling and ceiling systems are not needed.
· Maintenance associated with impact beds and impact troughing sets is eliminated, as they are not required.
· Production capabilities or feed demands can be increased at significantly lower costs.
The Parramatta Engineered Controlled Flow Material Transfer System provides the benefits of extended conveyor belt service life, coupled with reduced operating and maintenance costs together with higher throughput capacity.
Continental Conveyor-World

Leaders in Conveyor Technology

MMD-World Leaders in

Mineral Sizing

Ludowici - Components

and Equipment

Eriez- Magnet Specialists

DBT Automation
DBT Automation exhibited a range of products designed for online measurement and analyzing of coal and coal combustion products. The ash content of coal just like the water content is an important parameter denoting the coal quality. The DBT RQDS 2100 On-line Ash Content Determination System has been especially designed for this purpose.
The DBT Carbon Analyzer RQDS 4100 has been developed in response to the need for an accurate no contact on-line determination of carbon in fly-ash. On-line measurement of carbon in fly-ash provides an immediate indication to the plant operator to enable him to optimize the combustion rate and the throughput of the boiler.
The requirement for optimization of coal burning processes and therefore the input of information about the fuel as close to the process as possible has led to the development of the DBT model ORFA 75 analyzer with a top particle size of 10 mm, combined with a sampling and conditioning system.
DBT also designs and produces a wide range of custom designed heavy duty engineered belt conveyor solutions and conveyor products to handle the most demanding bulk material handling requirements in both underground and above ground applications.
Hughes Supply Inc.
Hughes Supply has provided more than 25 years of quality products and services to coal preparation plants with polyurethane pipe fittings and custom fabrications. On July 1, 2000 Chevron Corporation and Phillips Petroleum Company announced the combination of their worldwide chemicals business into a joint venture. Chevron Phillips Chemical Company LP. Performance Pipe, a division of Chevron Phillips Chemical Company LP succeeds Plexco and Drisco Pipe as North America's largest producer of polyethylene piping products for mining and other applications.
Performance Pipe is used in mining applications, which demand high quality, high performance, and durability to protect the environment, minimize costs, reduce maintenance, and provide long-term trouble free service. Typical applications in the mining industry are acid mine drainage, chemical mineral extraction, process pipe and fittings, decant systems, slurry, and tailings lines, dewatering and impoundment piping.
The high tech services and fab shop capabilities of Hughes Supply are substantial and the company is also a distributor of Christie-Style Butt Fusion machines with full service, sales and repairs. Hughes Supply is located in Alum Creek, WV
SMC Electrical Products Inc.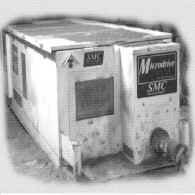 SMC Microtech
After years of research and development and an expenditure of several million dollars, SMC of Huntington, WV have developed a unique multi-frequency drive system, Microdrive, which brings speed control and operational flexibility to large 2300 and 4160-volt motors used in mining. The unit is designed to greatly improve the performance of conveyors, pumps, and fans and to reduce operational costs. There is considerable interest in the application of this technology to an underground longwall conveyor.
Microdrive provides several operational benefits:
· Match belt speeds to rate of production.
· Manage all conveyor belts as one complete system.
· Creep speed availability.
· Match pump and fan speed to flow requirements.
· 2300 and 4160 volt advantages of smaller cables, larger motors, higher efficiency, expansion capabilities.
Operating and maintenance costs are also reduced:
· Eliminates high maintenance costs associated with fluid couplings and mechanical clutches.
· Extends the life of conveyor belts, idlers, idler bearings and transmissions.
· Reduces operational costs of conveyor belts.
· Reduces operational costs of pumps and fans.
Microdrive uses what SMC describe as STS Technology – small, tough, smart. An AC Drive has been developed as a stand-alone unit to be located adjacent to the motor with a size less than one third the volume of medium voltage AC drives. Microdrive is extremely resistant to shock and vibrations during moving and handling underground. The unit uses full vector control to develop the rated torque across the full frequency range and remotely interfaces with various types of communications systems. Micro drive standalone units are available for 2300 and 4160 voltage and 300-1500 hp. cl


This article is protected by United States copyright and other intellectual property laws. The article may not be reproduced, rewritten, distributed, redisseminated, transmitted, displayed, published or broadcast, directly or indirectly, in any medium without the prior permission of Coal Leader, Inc. Copyright 2003, Coal Leader, Inc. All rights reserved.