Dozer Technology
"Our mission statement says: Komatsu is a world class company and its employees are committed to providing mutually beneficial partnerships and solutions to the mining industry," said John Koetz,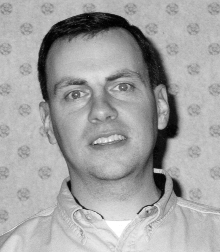 John Koetz
Product Manager for Bulldozers, Komatsu Mining Systems in addressing the Annual Mining Symposium sponsored by the West Virginia Coal Association. "Komatsu Mining Systems is a consolidation of all Komatsu's mining activities worldwide into a single organization with global responsibility," he said.
Koetz described the range of Komatsu machines from the Komatsu D375A-5 which is a 525 HP machine, to the D475A-3 bulldozer and D475A-3 Super Dozer at 860 HP, and the biggest machine, the D575A-3 super dozer at 1150 HP.
"The Komatsu D575A-3 Super Dozer is the world's largest dozer," said Koetz. "There are no other machines on the market that can meet the production output of the D575." The D475A-3 Super Dozer is a slightly smaller machine but remains in the Super Dozer class.

Productivity Features
He reviewed the Komatsu Dozer productivity features beginning with lockup torque converter transmission which gives the advantages of improved power transmitting efficiency and easy gear shifting. The lockup torque converter when used with a Komatsu engine gives lower fuel consumption and an operating cost advantage.
The Komatsu patented Super Dozer blade is 50% more productive in level dozing than a standard blade. It is also up to 30% more productive in uphill dozing and gives reduced cycle times and increased production.
The Komatsu undercarriage and low drive provides minimum shoe slippage and greater traction as well as improved riding comfort. With the K-Bogie undercarriage there is better grading capability, improved ride and comfort, and the track follows the ground better. The unit also provides improved serviceability, and improved contact between rollers and links.

Reduced Maintenance Costs
"Repair and maintenance costs are reduced with the D375A-5 K-Bogie undercarriage. The pins and bushings are easier to turn and there is reduced wear on pin-boss and guards giving longer life. Man-hours are reduced and parts replacement costs lowered due to higher reuse of pins. Thus total repair costs of the undercarriage are reduced and there is longer track life," said Koetz.
The Komatsu D375A-5 uses a newly designed cab damper mounting with improved vicious damping and a soft spring damper which isolates the cab. There is excellent shock and vibration absorption capacity.

Control System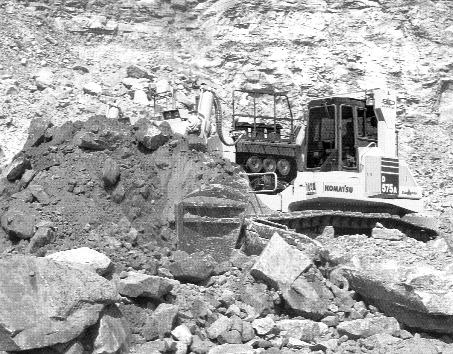 Komatsu D 575-A Super Dozer
The Palm Command Control System (PCCS) is a modern, ergonomically designed, operator friendly system and is a Komatsu Bulldozer exclusive. The unit gives easy steering taking a very light operating force and using the natural hand position and movement. It has preset travel speed selection function and by moving the joystick forward or rearward selects the speed automatically thus reducing cycle time. It also includes auto-shift down function. The controllor monitors engine speed, travel gear, and travel speed. When load is applied and the speed reduced, it automatically shifts down to optimum gear speed to provide high fuel efficiency.
Komatsu machines also include an Electronic Control Modulation Valve (ECMV). The ECMV controlled transmission automatically adjusts clutch engagement depending on travel conditions and provides smooth clutch engagement. The unit also provides better component reliability and life, as well as improved operator ride. With ECMV, sensors monitor machine conditions and electronically control steering, clutches and brakes. Smooth easy dozing operation results with reduced counter-steering effects in downhill dozing and turning.
Another Komatsu feature described by Koetz, is the Komatsu track shoe slip control which is available as an option. The operator can select sensitivity levels to suit the various ground conditions. This is used for ripping only. The track shoe slip control provides the benefit of increased undercarriage life of up to 40% in factory tests. It provides reduced fuel consumption, reduced repair costs, increased maneuverability and reduced operator fatigue.

Intelligent Mining
The Komatsu ProVision dozer system is a mining application for the intelligent mining age. The system is a fully integrated IntelliMine subsystem designed to improve the productivity of both track and wheel dozers in surface mines. It uses high position Global Positioning System (GPS) with a mine planning package and a wireless radio network with onboard color graphic consoles. It is designed for lower cost per ton, improving productivity with reduced rework, reduced survey activities and continuous grade control. Improved equipment utilization can be provided as the dozer operator can work during poor visibility and at night, and new projects are instantly available to the operator when a project is completed. The system needs limited supervisor interaction and provides compatibility with all manufacturers' equipment, thus it works in a mixed fleet.
The Komatsu MasterLink system was also described by Koetz. This is a dynamic new 2.4 GHz spread spectrum wireless communications network which significantly increases the amount of information that can be sent over the radio channel. MasterLink enables intensive high precision GPS application with shovels, loaders, drills, and dozers. Interactive maintenance management systems include high-speed online telemetry, using commercial off the shelf PC's or hand-held computers.
"The ProVision dozer system using MasterLink is truly a mining application for the intelligent mining age!" said Koetz. "Komatsu mining dozers provide versatility, improved efficiency, high productivity, and a production cost advantage. Komatsu is the world's largest bulldozer," he said.
In concluding Koetz said, "Komatsu will be there continuing to offer innovative solutions and cutting edge technology that provide mines across the world with increased productivity, cost savings, and a maximized return on investment."

This article is protected by United States copyright and other intellectual property laws. The article may not be reproduced, rewritten, distributed, redisseminated, transmitted, displayed, published or broadcast, directly or indirectly, in any medium without the prior permission of Coal Leader, Inc. Copyright 2003, Coal Leader, Inc. All rights reserved.